Deep Tissue Massage
On The Beach
Beautiful beach locations
Deep Tissue Massage
At Your Hotel
We come to your hotel room
Deep Tissue Massage
At Your Villa
Couples Deep Tissue Massage
On The Beach / COUPLES
Beautiful beach locations

Includes wine and dessert
Couples Deep Tissue Massage
At Your Hotel / COUPLES
We come to your hotel room

Includes wine and dessert
Couples Deep Tissue Massage
At Your Villa / COUPLES
We come to your villa

Includes wine and dessert
The Deep Tissue massage therapy focuses on realigning deeper layers of muscles and connective tissue.
If you are suffering from chronic muscle pain in your neck, upper back, lower back, leg muscles or you have sore shoulders this is the massage for you.
Aches and pains can be caused by many things including whiplash, falls or sports injuries, repetitive strain injury such as carpal tunnel syndrome, sciatica, tennis elbow, among other things, the list is almost endless.
Deep tissue massage from 'A Touch of Handz' uses hand, knuckle, fist and elbows in slower, deeper strokes concentrating on the areas of tension and pain. Tell us when booking where the areas of pain are and we can alleviate your discomfort.
We visit you anywhere on Saint Martin/Sint Maarten, so there is no need for you to have the stress of the road before or after the massage. We can come to your home, hotel, vacation resort, yacht (on anchor or at port) or arrange to meet you on the beach of your choice anywhere on sxm.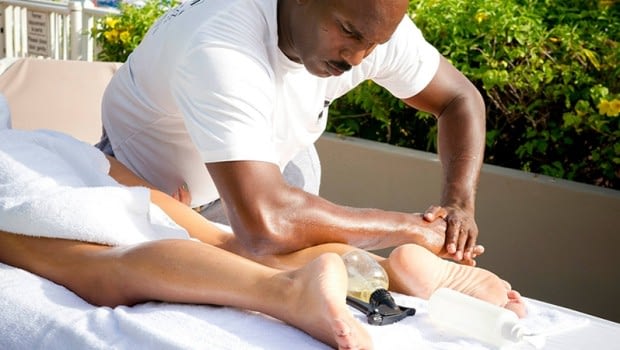 TO SCHEDULE JUST COMPLETE THE FORM BELOW
Singles and Couples Massages can be similar but are different in some regards pertaining to amenities, location, and the romantic nature of various massage experiences specifically designed for couples. You can book up to 10 people at a time.
We Proudly Accept The Following Payment Methods For Our Services